Senior Spotlight: James Purpura Goes from Watching 'Moneyball' to Earning Data Science Degree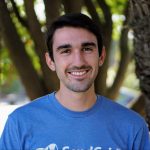 It was the movie "Moneyball," portraying the Oakland Athletics' rise to fame in 2002 through the novel use of baseball statistics, that motivated James Purpura to study data science. Now, as part of the first graduating class for UCI's new data science major, Purpura is set to earn his degree this spring. With a dual emphasis on statistics and computer science, the degree program — the first of its kind in the UC system — teaches students how to solve real-world data analysis problems. Purpura looks forward to landing a full-time position after graduation, but first, he is enjoying some time in London through UCI's study abroad program.
Can you talk about your path to UCI and decision to study data science?
I was born and raised in Orange County, so UCI was a great fit! I grew up obsessed with the statistical side of baseball, and watching "Moneyball" encouraged me to pursue a career involving data analytics. I committed to UCI after hearing about its introduction of a data science major. I was accepted as a software engineering major because data science wasn't an option when I first applied to UCI, and then I switched majors at SPOP [the student parent orientation program]. It has all worked out so far! I was a data engineering intern at Green Street Advisors during the summer of 2017, and I was a software engineering intern at SendGrid during the summer of 2018.
What are your thoughts on being in the first graduating class for this new major?
It's really exciting to see the major become more well-known over my time at UCI. During my first year, I always had to explain to others what "data science" means, because the major was so new. After three years, many people seem quite familiar with the field. I have definitely enjoyed watching the major grow from the handful of us in 2015 to the size it is now.
Have you had a favorite class?
I've liked a lot of the classes I've taken at UCI! I'd say my single favorite class is CS 171: Introduction to Artificial Intelligence, with Professor Lathrop. The class was a nice balance of theory and practical examples. Throughout the quarter, we developed an agent that would attempt to optimally solve mazes by limiting moves taken while avoiding dangerous obstacles. Better-scoring teams earned more points, so the competition among teams was very exciting!
What has been the best part of your experience in this program so far?
I would say meeting other people interested in data science. In such a young and growing field, it's exciting meeting other people with my shared interests.
Can you tell us a bit about your study abroad experience?
I am studying at King's College London through December 2018. The school, like UCI, has a large computer science department, so the courses here in London fit well with my major. I'm enrolled in Parallel Algorithms and Algorithms for the World Wide Web, as well as Spanish I and Museums of London. I have to say that Museums of London is my favorite class, because we take weekly field trips to museums, such as the British Museum and The National Gallery.
What are your plans for the future?
I'm currently applying for full-time positions in both software engineering and data science. Many positions in data science require advanced degrees, but I certainly hope to work in a data analytics position in the future.
Do you have any advice for prospective data science students?
It's definitely an exciting time for data science students! UCI is a great choice, as the School of ICS was one of the first in the world to offer an undergraduate degree in data science.
— Shani Murray