Data Science Student Raj Parekh Receives Distinguished Anteater Award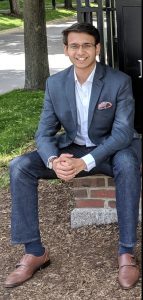 Each year, just 13 undergraduates are recognized with the Distinguished Anteater Award, and for 2018-19, one of them is Raj Parekh, a student of UCI's new data science program. Parekh is majoring not only in data science (through the Donald Bren School of Information and Computer Sciences), but also in quantitative economics (School of Social Sciences) and mathematics (School of Physical Sciences). In addition to being one of the few students in the history of UCI who has triple majored with majors spanning three different schools, Parekh is also pursuing a minor in innovation and entrepreneurship in the Paul Merage School of Business and was recently admitted into the Economics Honors program.
Yet academics alone isn't enough to earn the Distinguished Anteater Award and its $1,500 in funding. Recipients must demonstrate leadership and outstanding accomplishment in four other areas as well: extracurricular activities, research, service to UCI and service to the community.
Exceptional Extracurricular Activities
Parekh is involved in a variety of extracurricular activities, but he says that his most important role is as founder and president of the UCI branch of 180 Degrees Consulting, the world's largest student-driven social impact consultancy. 180 Degrees Consulting UCI provides "innovative and data-driven solutions to some of the most complex problems faced by large nonprofit organizations in the Orange County area." Parekh and his team have:
designed a fundraising strategy to help expand legal services to 100 foster-home children,
created an expansion strategy to match 375 underprivileged children with adult mentors in Orange County and
devised a marketing strategy to improve access to care for over 70 Alzheimer's patients.
Furthermore, the branch provides a three-week-long comprehensive training session on social impact consulting. "In just over a year of existence," says Parekh, "some of our alumni have received a summer internship at Amazon, full-time job offer from a top investment management firm in LA, and scholarship offer from the University of Chicago Booth School of Business's highly prestigious Summer Business Scholars Program [SBSP]."
Parekh also joined the UCI Student Managed Investment Fund (SMIF) team his freshmen year, the only portfolio management team on campus. "We competed at the regional CFA [Chartered Financial Analyst] Society's annual Request for Proposal competition and took second place," says Parekh, who served as president of the organization until June 2018, helping students gain more exposure to the world of finance.
Another club Parekh joined his freshman year was Project Rural India Social and Health Improvement (RISHI), where he moved up the ranks to become the internal vice president. As part of the project, he helped build sustainable solutions to problems faced in rural villages in India. RISHI also holds cultural events and fundraisers to support project initiatives.
During his sophomore year, Parekh — with help from ICS Associate Dean of Student Affairs Gopi Meenakshisundaram — co-founded the Undergraduate Data Science Association (UDSA), the first organization on-campus to promote the field of data science through workshops, career seminars and orientation events. In collaboration with the Department of Statistics, UDSA helps ensure a smooth transition for UCI's incoming data science students. According to Meenakshisundaram, "Raj is one of our star data science students and is a great ambassador for the program."
Deep-Learning Research
Parekh is also helping others through his research. Working under Professor Matthew Harding in the School of Social Sciences, he is using deep learning and neural network tools to create a prediction model to predict poverty rates in third-world countries.
Service to UCI and the Community
Parekh has been involved with the campus community "practically since day one," he says. After joining the Freshman Edge volunteering program his first year, he completed the nine-month leadership development program offered by the UCI Summer Session department, so he could mentor incoming freshmen students during the Freshmen Edge summer program.
"My colleague and I put together a 'UCI 101' event, which had around 70 attendees," says Parekh. "We helped these students comprehensively prepare for their lives at UCI through this workshop."
This isn't the only example of Parekh leveraging his own opportunity to open doors for others. After being awarded a full merit scholarship to attend SBSP, he started working with the MBA admissions team at the University of Chicago Booth School of Business to help more UCI students get into this top-notch MBA program. More recently, after being one of the first Anteaters to attend the extremely competitive Harvard Business School's Peek Weekend program, he has started forging a similar relationship between UCI and HBS. "I was selected as the Peek Weekend Ambassador for our university, and I will be working closely with their admissions team to build a strong relationship between our schools in this upcoming year."
Similarly, he explains that through his work with 180 Degrees, he has helped "put UC Irvine on the map of some of the most prestigious consulting firms… creating a long-term recruiting pipeline for our students."
In helping put UCI on the map, Parekh has more than earned his Distinguished Anteater title. "We are looking forward to seeing many more achievements from Raj," says Meenakshisundaram, "and his impactful contributions to society."
— Shani Murray